[A-Com./Contentions: 1.06]
{Wie man mit einem Messer philosophiert - Zusätzliche Untersuchungen, Teil II}
⚠ Note: this Contention is still in its raw form, and will be subject to changes. The reason for publishing the text prematurely has to do with the demand for acceleration of philosophical production and ideological formation, induced and spearheaded by the anti-comallodianist imperative for resolute proceeding of untapped desires from the realm of mere possibility into substantial actuality - a desire is for nought, if its splendour cannot be attested to. Weiter! Geh Weiter! Immer Weiter!
*****
We might visually (re)present these two relations through the following table.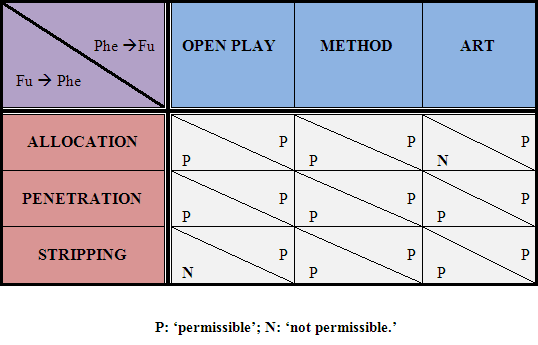 What the present table indicates is [the area of] what is possible/permissible/feasible while philosophizing with a knife. As one whose powers of observation are not compromised might tell, there are two restrictions that [- apart from all the other ones, there are two that are imposing restrictions/] are imposed upon our operations on/in(?) the interplay of these two categories: 1) you cannot strip active play, and 2) you cannot allocate art. The explanation for why this is so and not otherwise will be presented at the end of this Contention. For now, let us set about to/for corroborating these [remaining other] relations point by point.
[Additional remark, some of the terms are left (somewhat) intentionally vague, for there is a kind of power in symbolic expressions that doesn't quite yield to logical, rational and [yksiselitteinen] inquiry let alone manage to capture its depth, beauty and liveliness; this ought to be kept in mind, for the following elucidation ought not be taken as exhaustive one, and that many other possible aspects are to be found in the system in the course of its lifespan (of course, only open/available for those who find meaning in anti-comallodianist thought).]
[we can extract their the phenomenologicals' meaning by asking the questions "what are you going to do?" (answer: open-ended play), "how are you going to do it?" (answer: with a method) and "why?" (answer: because of art).
OPEN-ENDED PLAY>
Open play is unstructured, free and expresses freedom. It differs from ordinary life and aspires to transcend beyond it (the so-called "magic circle"). Even if unstructured, spontaneous, play creates order [that fosters tension of a serious kind] and is connected with no material interests.
[Play is a voluntary activity or occupation executed within certain fixed limits of time and place, according to rules freely accepted but absolutely binding, having its aim in itself and accompanied by a feeling of tension, joy and the consciousness that it is "different" from "ordinary life".]
["So, to decide how to play and why to play is to create for oneself a destiny, a fate, a goal, and, yes, even a purpose, where previously only dubious and spurious destinies, fates, goals, and purposes existed. It may not be everlastingly, cosmically, supernaturally meaningful - but that doesn't stop it from being immediately, personally meaningful. Eternity may make an absurd mockery of our actions, but we fight on. By fighting against the inevitable, we carve meaning from meaningless."]
It links us up with what is possible/world of possibilities.
[why 'open-ended'? It was chosen for the reason of it expressing adequately the aspect of human condition that is characterized by "thrownness".]
[a couple of related notions: Agon (competition), Alea (coincidence), mimicry (mask), ilinx (intoxication)]
[the purpose of the game is not really the solution of the task, but the ordering and shaping of the movement of the game itself - an essential feature of playing is that there is always something other, and so play is seldom radically subjective. The experience of the player is partly constituted by this moment of otherness. The player must respond to some event, in the context of a structured situation. Playing consists in a trans-individual process of action and reaction, which often takes on a to-and-fro quality reminiscent of dance. …the fascination of play lies in the way this structured movement "draws" players into its arena and "fills" them with its distinct spirit. The encounter with otrherness is thus an essential aspect of the play experience.]
[Playing is a medium where lived experience is organized as a structured situation. - it is not rational, but an irrational activity, for players are typically motivated by the quality of experience that playing affords, not by the expectation of some future utility.]
1. allocation
2. penetration
3. stripping
0. ALLOCATION <
1. PENETRATION<
2. STRIPPING< (NOPE)
METHOD>
Method is either a particular way of doing something in order to attain an object or a procedure for accomplishing or producing something - in crude terms, these can be expressed as mapping a way from point A to point B.
1. allocation
2. penetration
3. stripping
0. ALLOCATION<
1. PENETRATION<
2. STRIPPING<
ART>
Here we are using the term "art" in a manner deviating from its orthodox usage, and rather refer by it to the satisfaction gained from the contemplation of art, the kind of immediate (the thing-in-itself) satisfaction that doesn't require a further justification, reason or rationale for it to be worthwhile.
[there is an immense amount of satisfaction to be gained merely by the act of cutting itself, satisfaction which isn't restricted to the corporeal kind.
[veitsessä piilee myös esteettinen, tämä on: taiteellinen olemus, sillä se mahdollistaa artefaktejen, eli ihmisten luomien esineiden tai asioiden, tuottamisen. Voimme tarkastella esimerkiksi sitä, kuinka itsensä paloittelu on oikeastaan esteettinen kokemus: mikäli yksilö leikkaa jonkin osan itsestään, tämä nyt kehon ulkopuolelle jäävä osa on luokiteltavissa artefaktiksi, koska ihminen on luonut sen. Sanotaan, "taide on tuskaa", ja se on totuus.]
It links us up with the reality/realm of vitae.
1. allocation
2. penetration
3. stripping
0. ALLOCATION< (NOPE)
1. PENETRATION<
2. STRIPPING<
Earlier mentioned restrictions to the system: 1) you cannot strip active play, and 2) you cannot allocate art. The explanation for why this is so and not otherwise, has to do with their relations: when we're concerning ourselves with active play, we're also dealing with pure possibilities, which - lacking a physical presence -
One reason for why you can't strip open play is because it would be fruitless (when a possibility is being actualized, no matter how great the idea is, it is going to face opposition and [ilmentää] contradictions. So, instead of stripping it needlessly at the stage of pure potential, one ought to refrain from stripping it - this refrainment has the added benefit of speeding one's progress of actualization.
[toinen mahdollinen, vakavasti otettavampi selitys tälle liittyy vapaata leikkiä sääntelevien sääntöjen vapaavalintaisuuteen: ei ole tarvetta pakonomaiseen (involuntary) objektin karsimiseen, perkaamiseen, väkivalloin tehtävään erottamiseen, koska niistä voidaan halutessaan luopua; syy sille, miksi tämä ei pätisi yhtä lailla esim. ihmisen psyykeeseen [detachment?] liittyy siihen, tosiasiaan, että – koska ihmisen täytyy itseensä kohdistaessaan allokoivan funktion suhtautua itseensä kuin vieraaseen otukseen, jolloin suhde on enemmän väkivaltainen ja pakonomainen (kohteen kannalta), siitäkin huolimatta että päätös tehdään ihmisen omasta vapaasta tahdosta ennen itsensä vieraaksi mieltämisen vaihetta.]